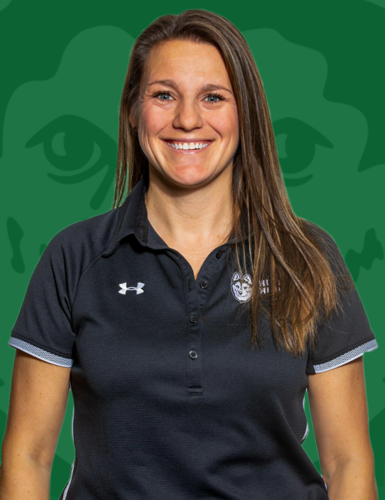 Huskie Team Physiotherapist for Women's Hockey, Men's Soccer and Wrestling.
Jessica Pawlik is back with Huskie Athletics and is heading up Huskie Health. She joined Huskie Athletics as a student trainer in 2002 and held a team therapist position from 2005 – 2010. Relocating from Minneapolis, MN in 2018, brought Jessica back to her home province and alma mater.
While in Minnesota, Jessica worked alongside some of the world's top health care providers at Mayo Clinic Sports Medicine and built her own sport physio practice in a hockey dryland facility. Jessica has also continued as a team therapist with Wrestling Canada, travelling to numerous international training camps and tournaments.
Jessica is a Registered International Sport Physical Therapist earning her Diploma in Sport Physiotherapy in 2009. She has continued on with her career development furthering her skills manual therapy, dry needling, KT taping, and earning accreditations with the Titleist Institute and National Strength and Conditioning Association. She has a biomechanical approach to treatment and utilizes manual therapy, dry needling, cupping, video analysis and functional exercises to reach each patient's goals.